David Pilato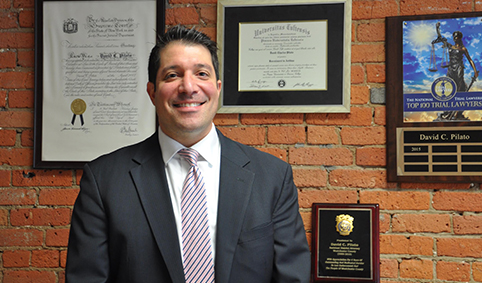 The LaDuca Law Firm
125 State Street
Suite 400
Rochester, NY 14614
Phone: 585 454-1000
Mobile: 585-420-8560
Fax: 585-327-5050
Email: [email protected]
David Pilato was admitted to practice in New York in 2007. He earned his law degree in 2006 from St. John's University School of Law. While in law school, he was the external competition director and a senior board member of the school's moot court team. He earned a Bachelor of Arts in Economics from Tufts University in 1999.
After graduating from law school, Mr. Pilato served as an Assistant District Attorney with the Westchester County District Attorney's Office for almost four years. During his tenure as an Assistant District Attorney, Mr. Pilato held positions in several Bureaus, including Motions & Appeals, Local Courts & Grand Jury, and Investigations, where he was assigned to the Firearms & Gang Violence Division.
Mr. Pilato prosecuted hundreds of criminal cases and tried several jury and nonjury trials while serving with the Westchester County District Attorney's Office.
Prior to joining The LaDuca Law Firm, Mr. Pilato worked as an Associate Attorney at a litigation law firm in Rochester where he practiced in federal and state courts. He handled a wide range of litigation matters, ranging from complex commercial litigation to criminal defense.
Mr. Pilato has successfully defended clients in both state and federal court. In state court, Mr. Pilato handles cases that range from simple traffic tickets to A-I felonies. In federal court, Mr. Pilato handles cases involving various conspiracies, gun trafficking, narcotics trafficking, sex trafficking, possession of and distribution of marijuana and controlled substances, bringing in/harboring aliens, and other federal charges. If you are facing serious state of federal charges, you need a criminal defense lawyer with experience in successfully fighting these charges for his clients.
Mr. Pilato is a member of the New York State and Monroe County Bar Associations.
Other Professional Experience
Prior to attending law school, Mr. Pilato worked as an Institutional Client Account Administrator for one of the nation's oldest mutual-fund firms, where he managed several multimillion dollar pension accounts. He then accepted an analyst position in the Business Alliances Group of one of the world's largest diversified global financial services companies, headquartered in New York City. As part of a structured marketing effort, Mr. Pilato worked on a team that secured and managed key strategic retail partnerships, which accounted for several million dollars in company cost savings.
Areas of Practice:
Criminal Defense
Personal Injury/Plaintiff's work
Other civil litigation
Bar Admissions:
New York 2007
Western and Northern Districts of New York 2010
United States Court of Appeals for the Second Circuit 2016
Memberships:
Monroe County and New York State Bar 2010
New York State Defender's Association 2012
Awards:
The National Trial Lawyer's Top 100 Trial Lawyers (Criminal Law)
Education:
St. John's University School of Law – J.D.
Tufts University – Bachelor's of Arts, Economics